Nothing will affect the appearance of your home more dramatically than the materials you use on the exterior. When choosing a siding, look for a material that suits the architectural style of your house and the climate you live in. Durability and maintenance is also a consideration. Most commonly, 2 or 3 different types of siding are used together to add definition and highlight architectural features. The list of siding options is lengthy. Stone, brick, vinyl siding, wood siding, stucco, board and baton, wood clapboard, cedar shingle siding and engineered wood siding are some of the more common.
Vinyl Siding
Vinyl is made from a PVC plastic and is usually less expensive to purchase and install than most other siding materials. The beauty of vinyl is that it comes in a wide variety of colours, and styles (cedar shakes and board and batten look-alikes) and it doesn't flake or rot as wood siding can. However, on the downside, standard vinyl siding can crack and fade over time. To reduce the likelihood of cracking or denting, we are seeing innovative solutions that include foam backing and fiberglass rods to help stiffen vinyl panels. Vinyl siding is somewhat controversial because of environmental concerns.
Stucco Siding
Stucco siding | Image source: rafaelstucco.com
If vinyl siding for your home's exterior isn't the look you want, stucco is another affordable option. Traditional stucco is made of lime, sand, and water. Modern stucco is made of cement, sand, and water. Lime is added to increase the permeability of modern stucco. In order to make the stucco even stronger, acrylics and glass fibers are sometimes added. This structural improvement allows stucco to be applied in one coat instead of the traditional three-coat method. There are many benefits to using stucco. For instance, it can be installed over many existing siding products or siding can be easily removed to make room for new stucco over your home's sub-wall. Also, stucco offers a much more reliable end product than vinyl and stucco stands up against fire, rotting, termites, and extreme weather conditions. And perhaps best of all, you can tint the stucco the colour you want, and you may never need to paint The one disadvantage of stucco construction is in the material's susceptibility to moisture. Without the proper barriers in place, moisture can penetrate and move up the stucco finish. But with professional installation, this can be avoided.
Wood Clapboard Siding
Modern science has given us many synthetic wood-look products, and yet solid wood (usually cedar, pine, spruce, redwood, cypress, or Douglas fir) remain favourite choices for finer homes. With periodic care, wood siding will outlast vinyl and other pretenders. As with cedar shingle siding, wood clapboards can be stained rather than painted. Many wood frame houses built centuries ago still look beautiful today.
Stone Veneer Siding
Stacked stone veneer siding | Image source: birdienumnums.net
Stone is the most durable of all building materials. Granite, limestone, slate, and other types of stone are beautiful and nearly impervious to the weather. Unfortunately, they are also extremely expensive. Precast stone veneers and facings are more affordable and can give that old world look. Also, the variety of types, colours and shapes of precast stone is endless, and it combines nicely with most other sidings, e.g. vinyl or wood siding or stucco.
Brick
Bricks are one of the most common and time-tested building materials. Made of fired clay, bricks come in a wide variety of colours and textures. Although it is expensive, brick is expensive, yet it lasts centuries and probably won't need any patching or repairs for the first twenty-five years. Brick is commonly paired with vinyl and wood siding and stucco.
Cedar Shingle Siding
House with cedar shingle panel siding | Image source: shakertown.com
Homes sided in cedar shingles (also called "shakes") blend beautifully with wooded landscapes. Made of natural cedar, the shingles are usually stained browns, greys, or other earthy colours. Shakes offer the natural look of real wood, but usually require less maintenance than wood clapboard. By using stain rather than paint, you can minimize peeling.
Engineered Wood Siding
Engineered wood, or composite wood, is made with wood products and other materials. Oriented strand board (OSB), hardboard, and veneered plywood are examples of engineered wood products. Engineered wood usually comes in panels that are easy and inexpensive to install. The panels may be molded to create the look of traditional clapboards. Because the textured grain is uniform, engineered wood does not look exactly like real wood. Still, the appearance is more natural than vinyl or aluminum and it is almost maintenance-free.
Board and Batten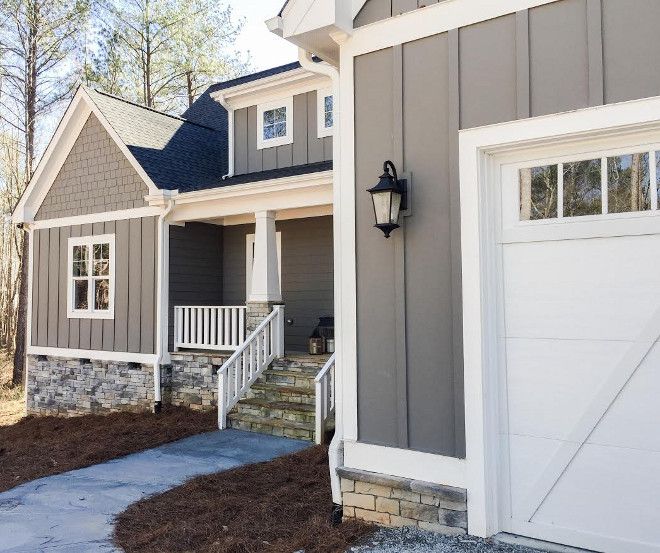 Beautiful grey board and batten siding | Image source: Abbie J, via homebunch.com
Board and Batten is an application of wood or composite siding that often is used to give a building the perception of being higher than it actually is. Board and batten siding is a vertical design created using wide boards spaced apart with narrower boards (battens) covering the joins. There are no set board or batten widths with this siding, but a common combination is 1"x2" or 1"x3" battens laid over 1"x10" or 1"x12" boards. Board and batten are commonly referred to as "barn siding," but has also been used more recently on modern house designs.
---

Are you currently getting ready to do a home renovation project? If so, post your project online at www.bidmyreno.com and connect with the experts!