Trying to achieve an interesting new look in your home?
Turn back the clock and grab classic pieces that will give your home a contemporary aesthetic. The rustic charm of converted factories and modern lofts has caught hold of architects, interior decorators and design enthusiasts. With it's ever-growing popularity we are seeing more designs that incorporate exposed concrete, unfinished wood and undisguised piping.
But how can you bring this style into your space without the architecture to support it? The answer: fixtures and finishes.
Well-selected light fixtures can act as the focal point in your space. Below are a few tips on how to pair your fixtures with stylish finishes to achieve that industrial chic aesthetic.
Image source: livingwithlibby.com
These large globe fixtures have a minimalist aesthetic. Left alone they may seem a bit unremarkable but, when added to a space, their size and geometric simplicity make a big statement!
Concerned that an edgy fixture might be too severe for your living space?
Balance is the key to ensuring that your designs stay current but still comfortable. To get the best of both worlds, the harsher components of your industrially-inspired pieces need to be softened by the warmth of your home. Try pairing metallic fixtures with warmer materials such as wood or lush fabrics. As an added touch, an unfinished edge on curtains or throws can further the rustic aesthetic you are going for.
Image source: livingrooms.about.com
This new take on a chandelier uses tarnished metals and unique bulbs to make an edgy statement. Paired with the warmth of a solid wood table, this fixture will bring a rustic charm to your living area.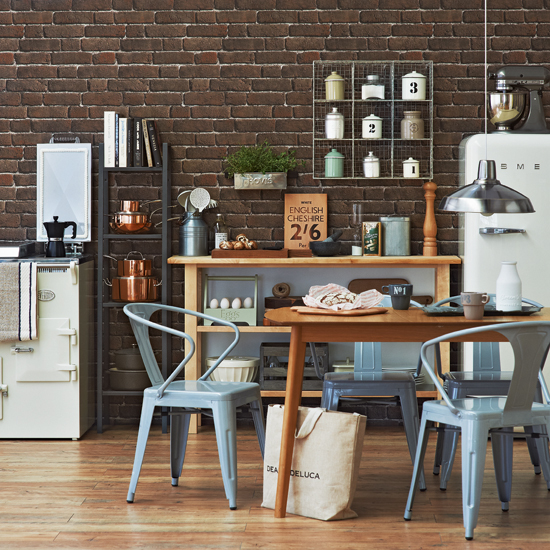 Image source: www.housetohome.co.uk
The brick wall coupled with the low metallic lighting adds a perfect taste of industrical chic to this room.
Colour can really make your industrial fixtures pop!
If you choose a bright fixture, try adding other hints of a similar colour throughout the space. Having one signature accent colour in a room helps to create a consistent theme. Whatever colour you choose, be sure to include at least a small hint of black. Even a single black element in a space can serve to ground the room. This is particularly true when it comes to the industrial chic look, where the darker hues also act to harken to the past.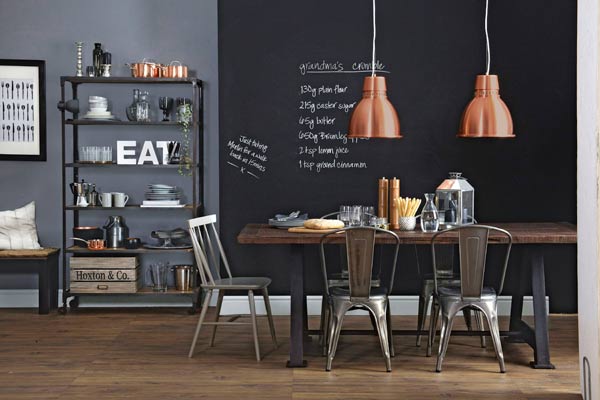 Image source: thisoldhouse.com
The bronze of this light fixture is carried through to other pieces in the room, creating a unified space. Blackboard paint is used to further the industrial look.
The vibrant blue accent colour used below lends an excitement to this space. The black couch and dark cage lighting pops against this bright background.
Over to you -- How have you added visual interest to your home in the past?
---
Looking for help with your home renovation?
Post your project on bidmyreno.com.
Simply post any work that you need done around the house, and contractors will approach you with competitive offers.