Add an element of fun to your home décor with indoor swings. This playful addition is a great way to keep kids smiling on rainy days or to reawaken your inner child. With a wide range of styles and designs to choose from, swings can fit into almost any space.
Relax and unwind in this adult-sized swing set:
Image Source: savvyhousedesign.com
The natural, unfinished wood of this bench swing lends to the organic feeling of the space:
Image source: roomdecoratingideas.com
Swings aren't just for kids anymore! This modern swing adds some fun to the room: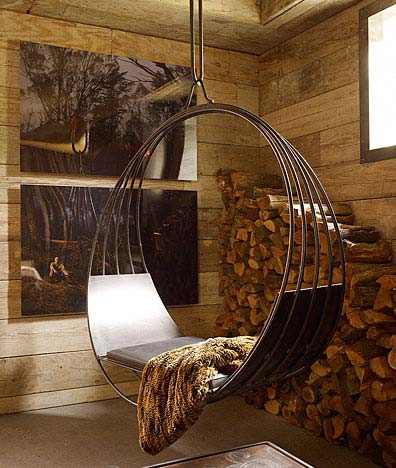 Image source: woohome.com
A More "Adult" Alternative
If you are looking to get the kinetic energy of a swing but with a more refined aesthetic, suspending furniture might be for you. Suspended furniture has been around for centuries, and can serve as an unexpected twist to your home's décor:
Image source: brit.co
Teak daybeds can be found inside the Chettinad mansion of South India. Suspended furniture has been used in India for years, acting as an ideal spot for a "chat sit."
Image source: Emmas.blogg.se
For the Kids
Amp up your child's playroom with a tire swing!
Image source: handmadecharlotte.com
Making It Happen
While the idea of having a swing indoors might seem like a lofty idea, it's much more attainable than you'd expect. Regarding height requirements, almost all child-sized swings and suspended furniture can fit into a standard 8' ceiling.
Safe Installation
As for structural support, the joists and beams in most ceilings are strong enough to bear the furniture's weight. For safety, it is important to ensure the swing or suspended piece is connected to the ceiling with strong rope, cable, or chain and at least two screws with eye hooks.
Before installing your swing, check in with a contractor, architect or engineer to be sure that you'll be swinging safely! To find a qualified specialist or contractor to bring a bit of fun into your home, sign up for a free account at bidmyreno.com and post your job at no cost. This site works to connect homeowners with skilled professionals that will help make your dream home a reality.
Related Article Age-appropriate Home Improvements